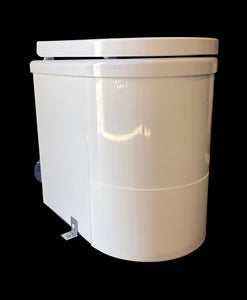 TinyJohn Electric - Waterless Incinerator Toilet
Regular price $3,385.00 Sale
The TinyJohn toilets are ideal in RVs, trailers, van conversions and other applications with limited power. The above video showcases an install in a 24ft RV. The old pedal toilet was replaced with the TinyJohn and the customer was able to double up on the fresh water.
All Ecojohn models are manufactured in Arkansas, USA. Each product goes through a number of testing protocols to ensure top quality and ultimate performance. In addition, all orders are shipped on a pallet to ensure the products get to the customer in good order without any shipping damages.
The TinyJohn is a compact and sleek designed waterless self-contained gas fired toilet that incinerates the waste into a sterile ash. It is very popular option for off-grid cabins and it operates on higher elevation as well. The above video shows how a customer receives and installs his TinyJohn at 8,000ft.
The TinyJohn models provide ecological, economical, and logistical benefits and are great in areas where a standard toilet is not practical to install.
Models:
TJ-E120 - Electric, 120V AC
TJ-E240 - Electric, 240V AC

Current Estimated Delivery Time:
4 Weeks
Accessories:
Liners Dispenser - $25.00
Bowl Liners (100 liners/box) - $35.00 
Vent Kit - $100.00-$200.00

Catalytic Converter - it will clean the air going outside, which will reduce any odor(if any).  It will also keep the exhaust fan clean and requires less maintenance. 
Applications:
Tiny Houses, cabins, RVs, Boats, guest houses, additions etc.

Daily Usage:
30 Flushes
Electric Consumption:
1800 Watt
Technical Info




TinyJohn 

Fuel

All Electric


Operating Voltage

120V AC, 240V AC

Power

1800 Watt


Temperature

Operation: -35 to 140 F

Material

Steel

Electrical Load

Urine Cycle: 1200 Watt/hr
Waste Cycle: 2000 Watt/hr

Height
22"
Width
14"
Depth
20 5/8"
Sitting Depth
19"
Weight
65 lbs