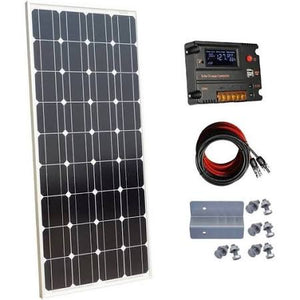 Solar System Kit
Regular price $250.00 Sale
Package Content: 1 x 100 Watt Mono Solar Panel + 1/4 Z brackets and [Pack of 1 20 A/LCD display + 1 pair MC4 connector with 30FT extension cable
High efficiency 100 Watt Solar Panel with high quality frame, have excellent performance in harsh weather.
Easy to use, perfect for 12 V battery charging and sophisticated for use with the RVs, Boats, and other outdoor equipment 's
For use with for all Solar Power System (on-grid grid on and off): homes, boats, businesses, and industrial energy.
Easy installation with pre-drilled hole protect, charge & Z Style Controller can battery brackets help to install. Extension Cable is good to use, Father than usual panel can achieve.